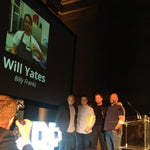 Third times a charm! After being shortlisted last year and missing out, this year I went one better and claimed the prize of The Young British Foodie (YBFs) winner in the MEAT Category! Chef Neil Rankin and Turner & George, the founders of the UK's Meatopia festival, awarded me the meat gong for my "obsessive, madcap dedication to drying, curing, fermenting anything meaty he can get his hands on".
After beating of such great competition, Cobble Lane Cured, Kenton Hall Estate, The London Charcutier and Swillington Organic Farm, I finally achieved my goal an won the award for 2015 at the Tate Britain.
I received an amazing Benheim Forge knife, engraved and cased to take away… and cut more meat!
I also served up some wonderful canapes using my award winning chilli on dehydrated tortilla plates with edible flowers and N'djua (that I cured myself) cheese sauce. Oh and of course a sprinkle of fine magic jerky dust!