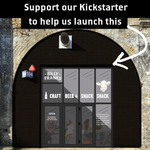 From making our jerky snacks in our one bedroom flat, to a tiny production unit in Hackney Wick, hawking our jerky at some of the UK's best beer events, we then finally settled into our current jerky HQ on Druid Street. We now need your help to turn the front of our jerky factory into THE Bermondsey Beer Mile's premium bottle shop - Billy Franks Craft Beer & Snack Shack!
As we are located behind Maltby Street Market in a high footfall area which is full of engaged customers interested in artisanal and craft food & beverages - it really is a no brainer to open our doors to the public, invite beer mile visitors in to try best snacks around to compliment amazing craft beers from all over the UK.
Which is why we are asking you to help us get our bottle shop off the ground through our Kickstarter Campaign. Your support will help us take the next step in revolutionising the bar snack game by building a cosy and relaxed bottle shop where people from far and wide can come to enjoy a beer and a bag of jerky.
And we've teamed up with some amazing breweries, industry experts, craft makers and shakers to give you some awesome and unique rewards in return for your support.
From discounts and loyalty cards to subscription boxes and merchandise to jerky making master classes, food and drink pairing nights, supper clubs and even private hire of the snack shop for you and your friends.
Check it out here!